Dr. Craig C. Callen
Dentist in Mansfield, OH
Craig C. Callen, DDS & Associates
PUBLISHED AUTHOR AND LECTURER:
Author of 3 books used nationwide; "The Cutting Edge I, II & III"
Associate Editor of a newsletter from Excellence in Dentistry
Author of numerous articles in national dental publications
Guest Lecturer at dental schools
Has lectured throughout the U.S. and Canada on High Tech Dentistry
Advisory Board, "Advanced Learning Technologies, Inc."
MEETING THE HIGH STANDARD OF THE DENTAL PROFESSION
Member of the American Dental Association , Central Ohio Dental Association and past President of the Mansfield Dental Society
Past President of the Mansfield Dental Society
Founding member of The Dr. Woody Oakes Lecture Series
Accepted into the 6-year dental program at Case Western Reserve University and graduated with a Bachelor of Science and Doctor of Dental Surgery degree at the age of 23, making him the youngest dentist in the state of Ohio.
First dentist in the Mansfield area to use Intra-Oral TV, "Filmless" computerized dental radiography and air abrasion "drilless" dentistry and electronic anesthesia
Uses Nitrous Oxide without IV's to relax his patients if needed.
ACTIVE IN THE COMMUNITY
Dr. Callen and Family
PERSONAL
Dr. Callen has five children, Joseph, Lauren, Meghan, Caitlyn and Christian. He is a life-long resident of the Mansfield area, having graduated from Malabar High School. His hobbies include house rehabbing, travel, boating, camping reading, and computers. His professional associations allow him the opportunity to travel throughout the U.S. giving and taking continuing education seminars. When time allows, he enjoys discussions on a dental internet forum with dentists around the world. He hosts a dental Facebook group where he provides education on a daily basis to dentists around the world. The Callens live in Bellville in an 1870's house that he completely remodeled and updated. The property had been abandoned for 12 years. Summertime will usually find the Callens up at Lake Erie boating or fishing on weekends and vacation.
Dr. Richard D. Nichols
Dentist in Mansfield, OH
Craig C. Callen, DDS & Associates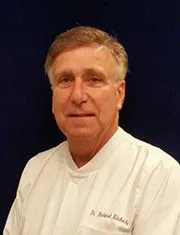 Dr. Nichols is originally from Ontario, Ohio and is a graduate of the Ohio State University College of Dentistry and Ohio State University undergraduate degree. He is a past, part-time instructor at the OSU College of Dentistry. He is a member of the of the American Dental Association, the Ohio Dental Association , the Central Ohio Dental Association, and the Mansfield Dental Society. Dr. Nichols is very active in his church and has helped to equip a free dental clinic in Africa through the Grace Brethren International Mission.
Dr. Nichols is a graduate of Ontario High School. He and his wife, Cindy have two grown daughters, Lindsay and Allison who also attended OSU. He likes to visit historical locations on vacation such as Jamestown and Colonial WIlliamsburg.
Dr. MARTIN HERTZEL
Dr. Hertzel grew up In Olmsted Falls, Ohio and graduated with honors from Olmsted Falls High
School in 1997. He attended Muskingum University in New Concord, Ohio and received his
Bachelor's of Science degree in Biology in 2001. From there, Dr. Hertzel went on to The Ohio
State University College of Dentistry and received his D.D.S. In 2005. He has been in private
practice in and around central Ohio for 17 years. He enjoys performing all aspects of general
dentistry. Dr. Hertzel resides in Gahanna with his wife Mone', and children William and Isabelle.
They also have an Australian Shepard and 2 cats. They are very active and involved members
of Holy Spirit Catholic Church in Whitehall. Dr. Hertzel is a member of the Knight's of
Columbus Marian Council in Whitehall where he enjoys volunteering to support their many
charity events. In his free time, Dr. Hertzel enjoys spending time with his family, fishing,
bowling, and smoking meats. He is also a bourbon and craft beer enthusiast.